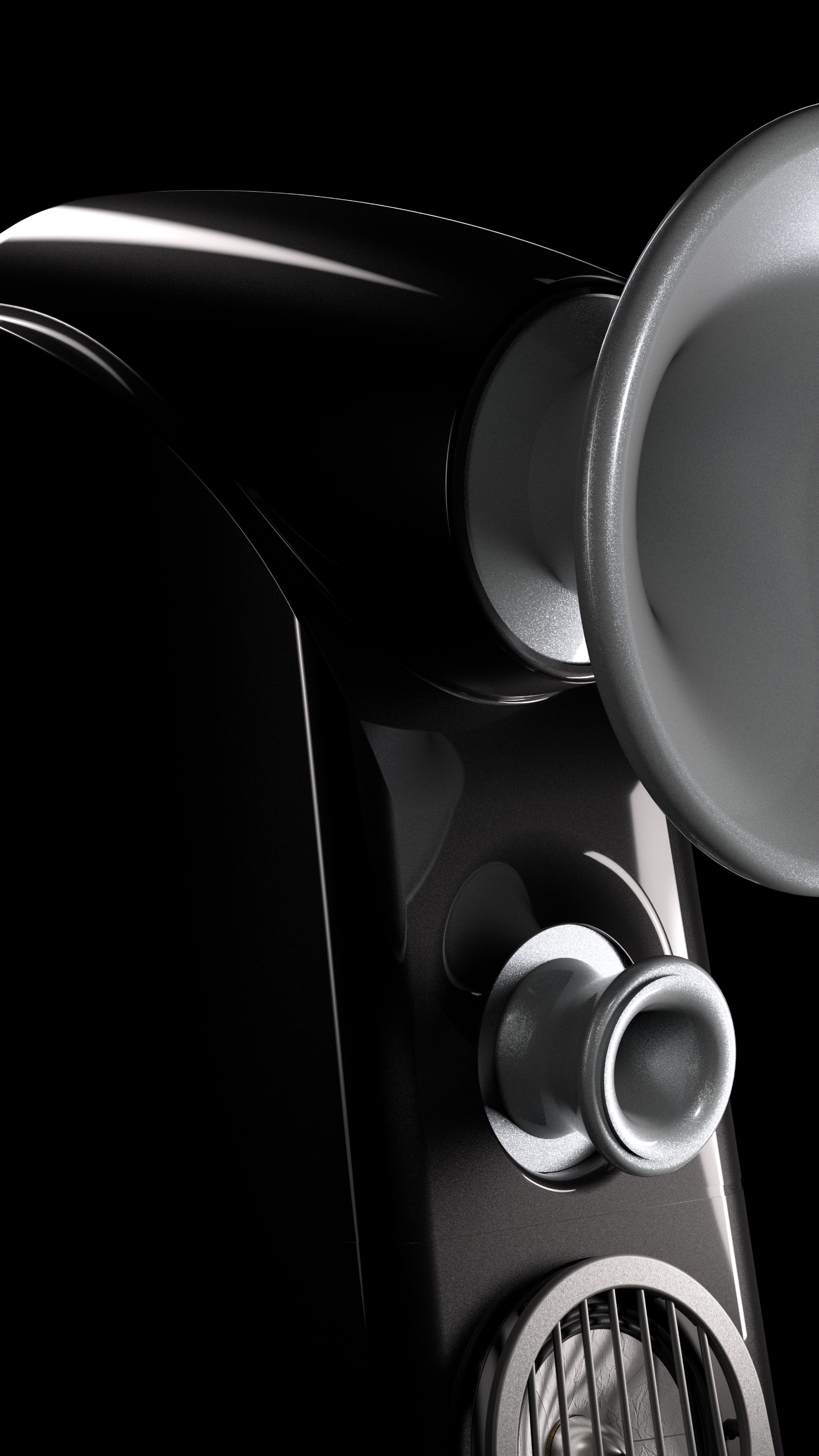 AM 45
Three decades of research
The AM45 brings together three decades of Seawave Acoustic's innovative technology. Designed to surpass our formidable Reference horn speaker, but in a more widely-accessible size, the AM45 has exceeded even our most ambitious expectations.
Comprising a 4-way 5 driver array, the AM45 can deliver a flat frequency response from 20 Hz to 35 kHz and, in a typical reference environment, has almost unlimited headroom. Its prodigious two module AC4C aluminium unicast cabinet also makes it capable of producing lightning fast subsonic frequencies.
With its astonishing speed, control, and detail, the AM45 realises our mission of bringing the acoustics of the concert hall into the music room.
Incorporating our latest generation of electronic components, the AM45 is designed to create the purest possible signal pathway, producing a freshness and vitality that will bring new life to your favourite performances. A discerning client recently reported, "I'd loved this 'live' recording for twenty years, but thanks to your new speakers, it was as thrilling to me as was the first time I heard it!".
We're exceptionally proud of our new horn speaker, and once you experience it for yourself, we're sure you will appreciate the work and dedication that have gone into bringing the AM45 to fruition.
Technology
AC4C Aluminium Modular Unicast Cabinet
To reproduce the low frequencies that Seawave Acoustic is renowned for, we experimented with a wide range of compounds. After testing exotic compounds such as Kevlar, we eventually chose AC4C aluminium which is extraordinary inert. This created the greatest challenge for us as nothing as large and complex as the AM45 had ever been moulded with AC4C aluminium before. Working closely and tirelessly with our partners we managed to achieve the impossible creating both the external cabinet and integrated chambers for their respective drive units.
What we have produced is an extremely inert speaker cabinet that allows us to fully realise the bass potential from our componentry while presenting an aesthetically beautiful form. Comprising of an infinite baffle configurations for the mid and tweeter with individual port reflex enclosures for the mid-bass and bass sections, the AM45 AC4C unicast cabinet is an expression of our highest ambitions.
Horn
Horn design is fundamental to the success of the AM45. With its 1" Hanji compression super tweeter and 2" titanium compression midrange, the AM45 produces the level of immediacy and detail historically associated with horn speakers but adds the neutrality of modern speaker technology.
The Hanji compression driver is a unique technology developed by Seawave Acoustic to produce open silky highs free from any harshness even when producing phenomenal SPLs. Coupled with
our titanium midrange which provides extraordinary transient attack and control, the AM45 reveals details in a performance that one would expect to hear only at a 'live' session in a recording studio through real time monitors.
Much of this performance is due to the Peplite Horn, specifically produced for the midrange for its stability and inert qualities. Once it has been hand finished and painted by a master craftsman, then affixed to the speaker, the AM45 takes on its iconic form producing a visual beauty that reflects its superb audio qualities.
Available in four colour combinations of Black & Silver, Black & Red, Poseidon Blue & Marine Beach and Cream & Green, the AM45 can also be produced to a bespoke finish so that it integrates fully into your listening environment.
Hanji Mid-bass
In our quest to produce a perfectly time-aligned 'true horn' speaker, we applied the lessons learned from our Hanji super-tweeter and developed a mid-bass Hanji driver. This provides the same naturalness and a freedom of 'edge' that some modern speakers exhibit.
With a manufacturing process developed in Korea over millennia, Hanji paper is renowned for its quality and robustness. Today it provides a material perfectly suited to producing those discriminating mid-bass frequencies to which our ear is particularly sensitive.
Specially Produced Resistors
When developing the AM Series we took our resistor technology to the next level. Using manufacturing techniques from military applications our new resistors have ceramic housings which have now been made to the highest standard realisable.
Incorporating our NST method to eliminate lead solder we have ensured the highest quality signal path and complete integrity. Featuring silver adhesive to bind the connections with a military spec housing we have created our ultimate resistor component.
Kapton Inductor
In previous designs we developed our own nickel alloy core inductors using 6C OFC and DuPont PTFE film. However, for the AM series, we have further enhanced our processes by using much-thinner Kapton tape to create a still more powerful inductor that contains even less copper than before.
While the performance of the original component was formidable, the new Kapton inductor has lent a degree of realism and naturalness to the AM45's bass frequencies that is nothing short of a revelation.
Capacitors
The subject of our most recent incursion into high-end component production has been the capacitor. Using 69 OFC and Kapton insulation we have created a capacitor with an unsurpassed level of performance.
Hand-crafted locally, it meets perfectly the requirements of our horn, creating the full naturalness and transparency of our design criteria.
Specification
Design
True Horn Speaker, 4 Way / 5 Speaker
Driver units
Super Tweeter: 1″ Hanji compression driver
Midrange: 2″ titanium compression driver
Midbass: 6″ Hanji
Woofer: 8″ Honeycomb
11″ Honeycomb
Enclosure
AC4C Aluminium Modular Unicast Cabinet
Frequency response
20Hz – 35kHz
Sensitivity
94 dB
Impedance
4Ω
Amplifier requirements
100 ~ 1000 W
Weight
150 kg
Dimensions (WHD)
1500mm H x 506mm W x 783mm D
Colours
Black & Silver / Black & Red / Cream Pearl & Satin Green / Poseidon Blue & Marine Beach / Bespoke option